Light Therapy For Aging | Acne
So What Is LED Light Therapy? 
Light therapy is the application of specific wavelengths of light energy to tissue to obtain therapeutic benefits. 
The energy delivered is then used to improve cellular performance. Light therapy can be delivered through light emitting diode (LEDs) devices or cold lasers, and has a variety of applications across many medical fields.
It has been widely researched and is supported by thousands of peer-reviewed and published clinical research papers from prestigious institutions around the world. Other terms by which light therapy is know are photobiostimulation, photobiomodulation, photomedicine, LED light therapy, low-level light therapy (LLLT), red light therapy, cold and soft LASER therapy. All terms are correct, have the same meaning and are used to describe the delivery of light energy to to treat a variety of medical and cosmetic conditions. 
The treatment is non-invasive, painless, requires no recovery time, and can be used safely on all skin types.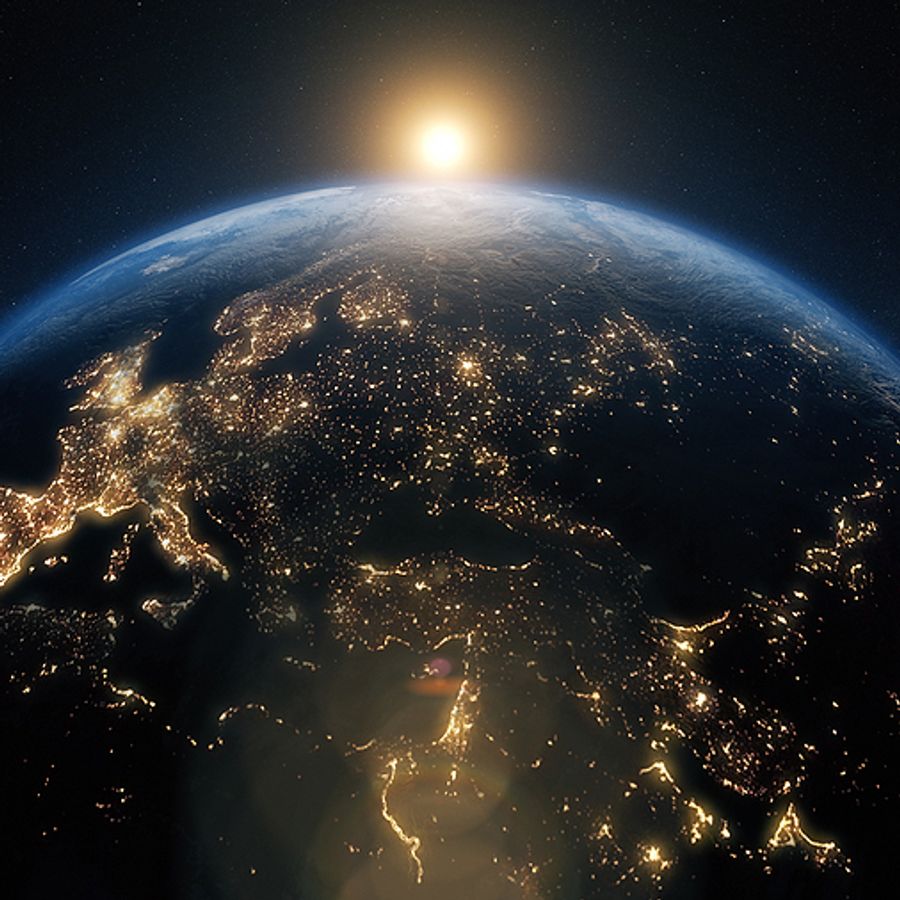 Created By NASA Perfected By Celluma
Originally developed by NASA for astronauts who could become injured or ill on long-term space missions, low-level-light therapy is used today as a safe and natural method of treating a variety of skin and pain conditions such as acne, wrinkles, aging skin and pain. 
The seminal research for Low Level Light Therapy (LLLT), also known as LED therapy, was conducted by NASA's Marshall Space Flight Center out of concern for astronauts who might be injured or become ill during long term space flight. In response to this health risk, NASA developed LED (light emitting diode) technology that showed great promise for delivering light energy deep into the body to promote wound healing and human tissue growth
Anti Aging LED Light Therapy
When it comes to aging, a significant factor that leads to wrinkles, fine lines, and joint pain is due to inadequate collagen levels. Collagen is the main structural protein found in your skin and other connective tissue. Collagen literally holds our bodies together. An easy way to remember what collagen does is to look at the Greek prefix 'kolla' which means glue. 
Increased fibroblast proliferation is just one benefit of LED red light therapy. Fibroblasts make collagen fibers, so it stands to reason that the more, and healthier, fibroblasts we have in the skin, the more and better collagen fibers are made. And as we all know, collagen synthesis and maintenance is the bedrock of anti-aging. 
Healthy collagen levels are what give us a glowing complexion, firm skin, strong nails, dense bones, and healthy hair. It is also essential in keeping muscles, joints, and tendons in healthy working order. Simply put, the more our bodies produce collagen, the better we'll look and feel as we get older.
Celluma Works To Boost Collagen Production
Now that we've established a base understanding of why collagen is essential as we age, let's look at the most groundbreaking and natural way to effectively generate more collagen in your body using the anti-aging effect of LED light therapy. 
Proven red and near-infrared wavelengths are utilized in the Celluma LED light therapy devices combat the signs of aging. These specific wavelengths of light energy are clinically verified to enhance your body's natural ability to generate collagen and elastin by activating the fibroblast cells. 
No prescriptions. No medications. No injections. No surgery. Just safe, natural wavelengths of effective, proven light energy.
The Skin & Healing Benefits Of Celluma Light Therapy Sessions
Skin rejuvenation and the reduction of wrinkles and fine lines 
Accelerated healing of chronic wounds.  
General pain reduction including muscle, joint and arthritic pains.
Works fast to clear existing blemishes and prevent future breakouts before they happen.
Improved tone and texture of skin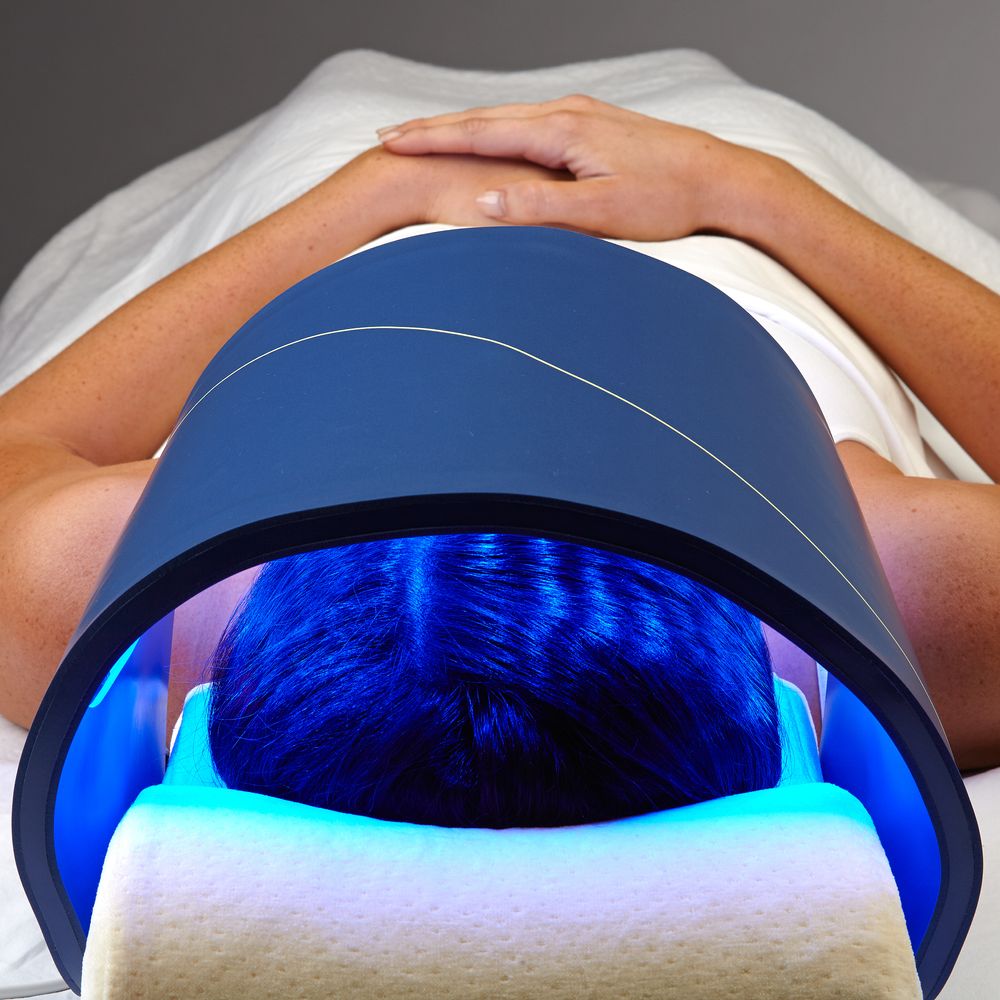 Blue LED Light Therapy Acne Treatment
Acne is a persistent medical skin condition that can affect your face, chest, back, shoulders, and arms, and although it does not necessarily impact our physical health, it can absolutely take a mental toll. Acne can make us feel ugly and self-conscious, wanting to retreat in our homes and hide from the world. And although acne is totally normal and nothing to be ashamed of, it can still place unnecessary stress on everyday life.
When a particularly extreme acne breakout happens, it can feel like nothing works fast enough to get us back in the clear. LED Light Therapy for acne is a tremendous treatment option for fast results.
What Causes Acne? 
Although acne is typically thought to only affect teenagers and people in their early 20s, acne is actually very common in adults, as well. Some people experience acne into their 30s, 40s, and 50s, and even if they never suffered from acne as a teenager, "adult-onset acne" is a thing, typically caused by pregnancy, menopause, and other hormonal imbalances. What's worse, women are affected by adult-onset acne much more than men. So unfair, right 
There is not one clear answer as to what causes acne in adults, but it's believed that a variety of factors such as hormones, genetics, diet, stress, makeup, poor skin care, and other underlying medical issues can cause adult acne, just to name just a few.
How can Blue Light Therapy Eliminate Acne Faster? 
If you suffer from acne, it's likely you've heard of light therapy as a possible solution to your pimple woes. LED blue light therapy is the new wave of skin care for people who have tried other acne treatments, but still aren't seeing the results they want. Light therapy used to only be available at a dermatologist's or esthetician's office, but with the advent of affordable, effective, at-home light therapy device design, blue light for acne is becoming a household treatment that's non-toxic, non-invasive, and really, really effective. 
LED light therapy works by killing acne-causing bacteria at the source, deep beneath the skin's surface. As people across the nation are searching for more natural, chemical-free alternatives to traditional medical solutions, light therapy fits the bill perfectly. Blue LED light therapy emits specific, clinically-proven wavelengths of light to trigger an all-natural effect in human tissue, killing acne-causing bacteria, decreasing inflammation, and improving skin tone, texture, and clarity from the inside out. However, not all light therapy is created equal. 
Blue and red LED light light-therapy is widely used as an effective option for the treatment of inflammatory acne. One study concluded that "…blue light and red light may act synergistically in improving acne by combining antibacterial and anti-inflammatory action, rendering phototherapy with blue and/or red light an effective and safe treatment for acne vulgaris.₁
Why is Celluma Light Therapy for Acne Different? 
Safety, effectiveness and value should always be the priority. Celluma is FDA cleared for the treatment of acne and is one of the few professionals grade devices also cleared for home use. Celluma light therapy for acne treatment goes above and beyond to achieve better and faster skin-clearing results. Unlike other LED devices available on the market, Celluma is flexible and conforms closely to the treatment area for optimal efficacy. 
Because of Celluma's unique ability to mold to the treatment area to improve cellular performance on a microscopic level, skin cells are able to absorb even more light energy in less time, speeding up the acne elimination and skin healing process. Because of the ability to place the device close to the skin, Celluma outperforms many even more expensive devices that cannot mold closely to the treatment area. 
Celluma's blue wavelengths kill the bacteria that causes breakouts, while reducing the inflammation, pimples and redness associated with acne. A reduction in lesions and overall improvement in skin appearance is often seen in only a matter of weeks. Of course, outcomes vary depending on severity of the condition and compliance to recommended protocols.