What are lash extensions?
Lash extensions are a glamorous way to extend the length and thickness of natural eyelashes, and are a practical, convenient and beautiful alternative to the use of daily mascara. True eyelash extensions are applied one by one to each individual lash creating a effortless glamour that is difficult to detect even close up. Eyelash extensions for years were a celebrity must have but recently have become more mainstream and advanced in application and products.
How long do they last?
 Lash extensions can be worn throughout the year with minimal monthly maintenance. Touch ups are recommended after the initial full set application. At any given time each of your natural lashes are at a different stage of their life cycle, this is why touch-up's are required to keep your lashes looking full and luscious. Lash extensions normally last up to 4-6 weeks with touch-ups's ocurring every 2-4 weeks.
What Sets Our Eyelash Extensions apart from other providers?
 We use over 5 Different Curl types, various lash lengths and diameters in Our studio. Our clients have perfectly customized lashes to suit their eye shape, natural lash and desired look. This is achieved by combining 2 or more  curl types, along with the signature styling techniques.
 Our Adhesive is low fume and cures in 4-6 Hours. Not your typical 24-48 Hour curing time. This means our clients can get their lashes wet faster!
All lash sets and touch ups receive complimentary gel pads, These pads protect your eyes during the treatment and help to improve the look and feel of your eyes.
We believe in happy healthy lashes, we strongly believe in comfortable, lightweight, soft and stunning lashes!
By keeping up to date with current lashing methods and education we bring my clients the latest in lash extensions. We take education and safety very seriously and we always continuing our education and learning the newest techniques. We were the first extensionists in Fort Saskatchewan Offering the advanced lashing  3-7 D Volume Method which can give you 2-7 X the amount of lashes!
We have clients that have been coming to us for 4+ years, on average we lash 35+ clients on a weekly basis!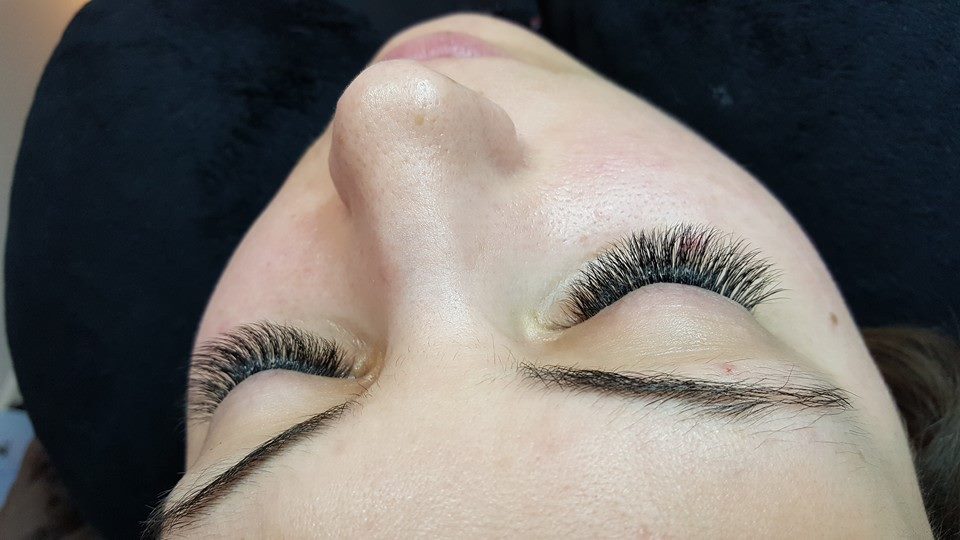 Can lash extensions harm my natural lashes? 
When Eyelash Extensions are applied by a knowledgeable, trained and certified eyelash extensionist and the appropriate lengths and diameters are used along with proper separation of each natural lash there is no harm to the natural lashes. In our studio we use 0.07, 0.10, 0.12 and 0.15 diameters for all of our lash sets, These diameters are more comfortable for clients to wear and last longer than the more damaging 0.20 and 0.25 extension diameters.
If you have ever worn lashes and they hurt, were uncomfortable, felt very hard or the extension would flip around your natural lash, Your Lash Extensions were NOT applied properly and the incorrect lash length and or diameter were chosen. A true Lash Artist will always take into consideration how long your natural lashes are & the weight they can hold. The right length and diameter chosen will give you longer lasting, comfortable lash extensions.
What is The difference between Silk, Faux Mink and Real Mink Eyelash Extensions?
The Silk and Faux Mink  I use in my studio are made from sterilized imported high grade Korean PBT material. All of these lash types are the very best on the market for eyelash extensions. They all come in a wide range of curl types, lengths, thicknesses and are some of the lightest lash extensions available. Each type of lash will suit clients differently. During a consultation we will asses your natural lash and desired look then we can best decide which lash material would be a best fit for you and your lashes. I don't carry or use real mink eyelash extensions for animal cruelty and sanitation reasons, True real mink comes from a mink farm and is animal hair.
How many eyelashes do you apply?
We are proud to say that we apply a extension to each and every eyelash you have! Giving you the most beautiful FULL lashes you have always dreamed of. Most Eyelash extension providers count lashes or do half sets. We believe a full set should mean a full set!
Can Mascara be used with lash extensions?
Mascara is typically not needed with lash extensions. Mascara should only be used when a touch-up is drawing near. Water soluble mascara can be worn, however constant use of mascara may shorten the lifespan of your lashes. Waterproof mascara will dissolve the bond of the lashes. We carry a glycol and carbonate free mascara specifically formulated for use on extensions. 
How do I prepare for my eyelash extension appointment?
Please arrive with no makeup and mascara, this ensures that we get the best possible bond with your natural lash and the extension. If you wear contacts please bring your case so they can be removed during the appointment. 
Once applied what is the proper way to care for lashes?
Nightly cleaning is a vital part of lash extensions, cleaning them helps to remove daily debris collected and keeps them looking better for longer. Using a lash wand to comb your lashes morning and at nighttime is also recommended to fluff them up. I sell an approved lash cleaner, as well as facial cleansers that can be used for your skin and your lashes.
How long does a full set of lashes take to apply properly?
In Our studio we schedule 2 hours for a full set of classic 1:1 Lashes. Volume Sets range from 2-2.5 for 2-3D Volume sets and for 4-7 D full sets may take 2.5 hours -3 hours. The normal human eye has anywhere from 100-150 lashes per eye and we try to apply an extension to each individual natural lash.Typically if a lash provider is finishing a full set true eyelash extensions in less than an hour they not isolating your natural lashes and applying cluster lashes to cut corners!
Do I have to lie down on my back for an extended period of time?
Please understand to apply lash extensions it requires clients to lie on their backs and be completely still, extensions are a very intricate process and our lash artists need to concentrate to the best of their ability. We make every effort to ensure client comfort in the form of a mildly tilted massage table, pillows and blankets.