The impact Eyebrows can have on a person is incredible. Your Eyebrow's act as a frame for your eyes and balance your face, They can transform your appearance and are one of the most identifying features that help people recognize you. Properly shaped eyebrows have the power of giving a more youthful appearance as well as brightening your eyes, balancing and framing your face.

Years ago when I first decided to really take my Eyebrow business seriously, I enrolled in a mentorship program with a renound award winning Eyebrow artist. I learnt quickly all of the key points you need to understand when shaping a clients eyebrows this knowledge and experience is what led me to decide that I wanted to be able to give my clients a more semi permanent answer to daily brow makeup.  

Semi Permanent Cosmetic Tattooing has always been something in the back of my mind I thought I would like to persue, Being a perfectionist, Very steady with my hands, Artistic with a keen eye for what is most flattering on someone's face, All of these traits helped me make the decision to enroll in a Micropigmentation School. Extensive research led me to Bio Touch where I completed my Full Comprehensive Training in, Color Theory, Sanitation, Sterilization, Cross Contamination, Microblading/ Feathering for Eyebrows, Powdered & Ombre Eyebrows, Lip Shading & Liner and Eyeliner.
With the help of Semi permanent Cosmetic Tattooing I can help to enhance your Eyebrows and Eyes to give you a long lasting alternative to everyday makeup. From Alopecia sufferers, Cancer Survivors, People who have lost their eyebrows over time due to over plucking and medications to anyone who would like to enhance their shape or create a new shape that is more flattering, This is achievable with a semi permanent eyebrow tattoo.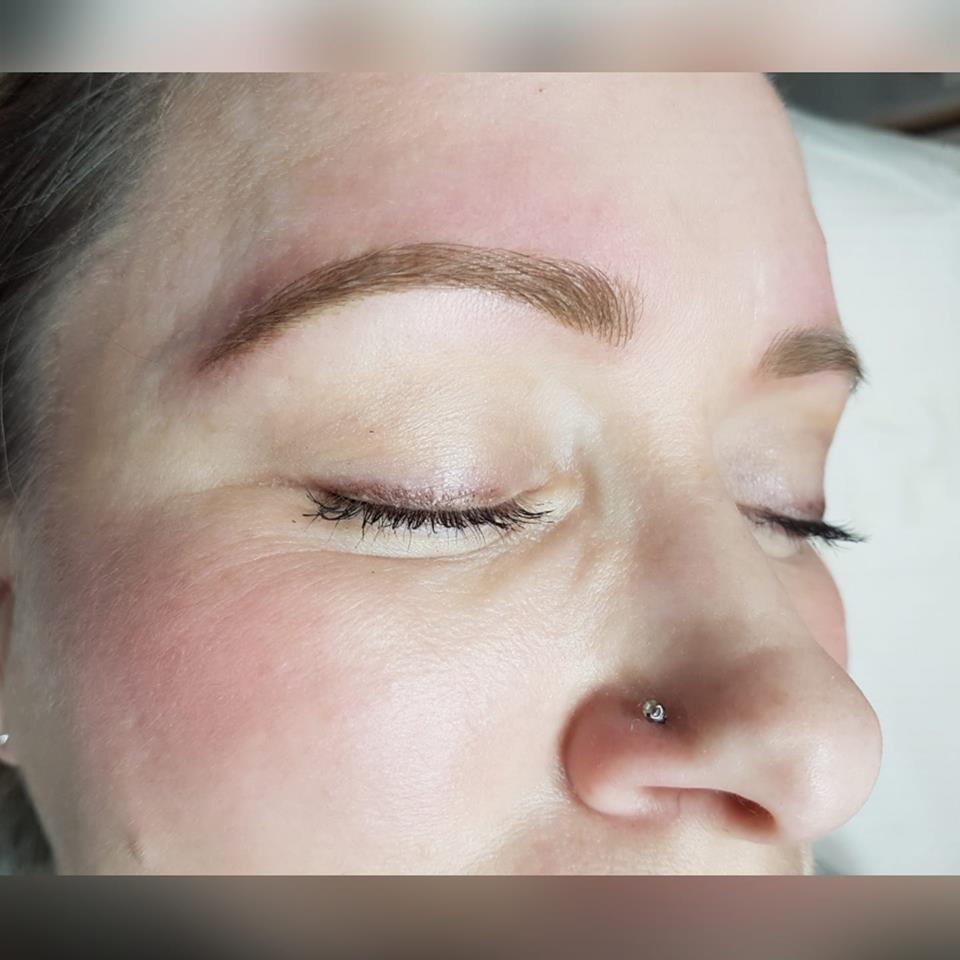 Frequently Asked Questions. 
What is Cosmetic Tattooing?
 
Cosmetic Tattooing , Semi Permanent Makeup, Microblading or Micro pigmentation, Is the process of implanting pigment color into the skin with tiny needles to give the appearance of tiny hair strokes, makeup and to enhance ones natural beauty. Results can vary from person to person depending on personal preference and desired look. From subtle and natural to dramatic anything is possible wirh a cosmetic tattoo. 

What is the difference between Cosmetic Tattooing and Body Tattooing?

The techniques, pigments and longevity is what differentiates body tattooing from Cosmetic Tattooing. Cosmetic Tattooing uses Pigments as Body tattooing uses Ink, Cosmetic Pigment will fade over the years and will require touch ups every few years to maintain the color. This allows the artist to change your look and color as time goes on. 

What is the difference between Microblading, Cosmetic Tattooing ?

The only difference between Microblading and cosmetic tattooing is the tools used to complete the procedure. Microblading is performed manually with a pen shaped tool and normally some cosmetic tattooing may be done with machines. Both of these modalities are considered a tattoo as they puncture the epidermis. The pigments that are used for microblading are the same pigments used In cosmetic tattooing. 
 
How old must I be to get a cosmetic tattoo?

You must be 18 Years or older to receive a cosmetic tattoo at Platinum Skin.

Does the Cosmetic Tattooing Process Hurt?

I go above and beyond  to ensure client comfort during any cosmetic tattooing treatment. I use a combination of highly effective numbing agents to pre numb your skin prior to the session and during the session. Pain tolerance levels differ from person to person but with the use of the numbing agents the treatment can be very tolerable and comfortable.

If I am Pregnant or Nursing can I get a semi permanent cosmetic tattoo?

I do not recommend having a cosmetic tattoo when you are pregnant or nursing. The Pigment is put into the skin and can possibly transmit into the breast milk.

How long will a cosmetic tattoo last?

Cosmetic Tattooing will be semi permanent, How the pigment retains in each clients skin will vary from person to person. Over time the cosmetic tattoo will fade and the area that was tattooed will require color boosts to keep the color fresh. Multiple sessions are normal with any cosmetic tattooing procedure and a minimum of 2 visits is always required with each new treatment Typically clients will visit every year to every 2-3 years for a color touch up.

When is the second session booked for after the initial procedure?

The second session is always scheduled for no sooner than 6 weeks after the initial session, This time frame gives the skin the right amount of time to heal and for the pigment to settle in the skin.

How many sessions may be required?

Typically most clients will require two sessions to perfect their new eyebrows, there are many factors that impact how a client heals as well as maintains their pigment after the procedure, influences can range from genetics, skin health, skin type, aftercare, sun exposure, skincare. It is very common for your eyebrows to heal a bit imperfect the very first session, this is why we educate our clients to understand this is very normal and with the second procedure we can address any areas that may not of taken the pigment as well and make necessary changes. In rare circumstances some clients may require an extra session, this would be charged accordingly.  

I have an existing eyebrow tattoo and I am interested in a cover up procedure?

Prior to booking a appointment with me please either come in for consultation or send clear pictures of your eyebrows to our email. I must be sure your eyebrows are workable and then we can move forward from there. Cover Up work may need additional sessions and would be charged accordingly.