The Natural Facelift Microcurrent Facial Skin Lifting & Toning
Facial and Neck Skin tightening treatments with Micro-Current Technology are ideal for anyone looking to lift and tone their facial muscles quickly and painlessly.  The Micro-Current Facelift Treatment is a " Non-Surgical" option for anyone who may be noticing the appearance of loose skin, loss of elasticity and loss of tone and texture. The Micro-Current  treatment will sculpt your face by defining your jawline, smoothing out wrinkles, defining your jawline and improving skin tone and texture.
Micro-Current uses low levels of safe current, painless electrical impulses to help Overly-Tightened muscles relax and to help Under-Worked muscles regain their strength. In essence, Micro-Current facial tightening and toning re-educates the facial muscles and restores them back to their original shape. When this happens the visible results are are quite dramatic as the face is lifted, firmed and toned back to a much more youthful appearance. Micro-current also improves circulation that stimulates the production of Collagen, Improves Tone and Texture, and improves or eliminates fine lines.
The Benefits Of Micro-Current Treatments
Reduces Wrinkles and Fine Lines By Stimulating Dermal Collagen Production
Tightens Elastin and Collagen fibers
Reforms and Refirms Facial Muscles 
Reduces Pore Size
Reduces Pigmentation
Minimizes Double Chin and Lifts/Defines Jawline
Eliminates Puffiness and Edema Due To Swollen Lymph Glands
Improves Moisture Retention
Reduce Dark Circles and Under Eye Bags
Preventative Measure Against Botox, Fillers & Facelifts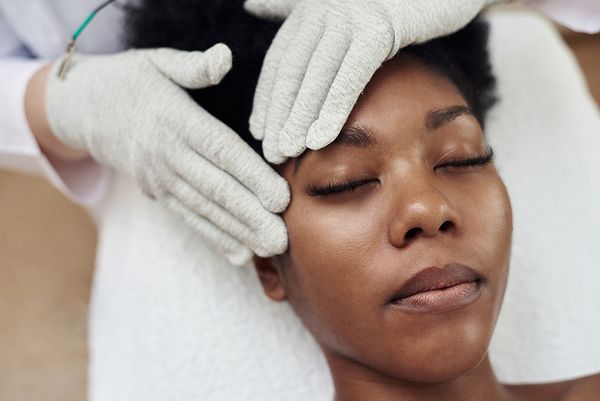 Micro-Current facial tightening and toning treatments are very relaxing and do not cause any pain, treatments can be done on their own or preformed with a facial. During the treatment skin is cleansed and a collagen serum and gel is applied. The Micro-current is applied to the specific acupressure points using special electrodes. The application feels similar to a facial massage.
Please Check Our Facial Menu For Micro-Current Facials & Treatment Pricing.